Posted by Cameron Parkins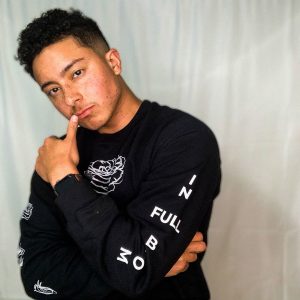 Washington is a latinx and black trans man who began recognizing in college that his gender identity was not aligned with his body. He was binding his chest with compression shirts designed for cisgender men which he found uncomfortable and inadequate. In 2015, Washington founded the Maryland-based company gc2b, providing the first garments designed and patented specifically for gender-affirming chest binding. He used his  product design training and background in textiles from the University of the
Arts to provide accessible, comfortable and safe binding options designed for and by trans folks.
Gc2b has donated over 6000+ chest binders to trans people in need who face financial barriers in obtaining reliable binders. Washington is committed to making gc2b binders as accessible as possible. Additionally, gc2b has sponsored 100+ LGBTQ organizations and raised almost $100,000 to support organizations that serve the black trans community such as the Black Trans Liberation Collective, The Marsha P. Johnson Institute, the Trans Women of Color Collective and the Black Trans Travel Fund. Washington's gc2b binder designs have benefitted thousands of trans folks worldwide, helping many overcome their gender dysphoria and feel more at home in their bodies.
Sources:
https://blog.google/outreach-initiatives/diversity/transgender-awareness-2020/
https://2b.care/pages/reach-impact & https://2b.care/pages/donation-program 
Mailing Address
23332 Farmington Rd #84
Farmington, MI 48336