Posted by Cameron Parkins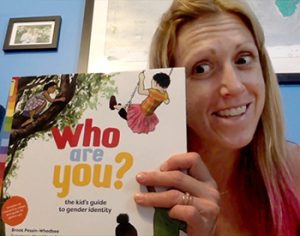 Who are you?  The Kid's Guide to Gender Identity by Brook Pessin-Whedbee with Illustrations by Naomi Bardoff, Jessica Kingsley Publishers, 2017
This book is a guide for discussing gender with young children, though it is a thoughtful introduction and overview to the basics of gender identity and expression for kids and grown-ups alike. Lively illustrations showing multiracial gender non-conforming children at play, combine with clear direct language in helping young children see and understand how we experience gender: our bodies, our expressions, and our identity. There are topics to go over, questions to ask, terms explained, and answers given. There are also open-ended questions which have no right or wrong answers. This book is a great resource for parents and educators looking to have open discussions with children about the gender spectrum, learning gender terms, and finding themselves.
The author suggests reading the entire book to yourself, including the "Guide for Grown-Ups" and the "Page-by-Page Guide to Key Concepts and Discussion Points" before sharing with children. There is also a removable hands-on "Interactive Wheel" (Body, Identity, and Expression) found at the back of the book which is useful in helping children better visualize the infinite possibilities of how they experience and express themselves through their own clothes, hobbies, and gender identities.
Note from the author, Brook Pessin-Whedbee:
This is a book about all of us. From the moment we are born, and often even before that, people talk about gender. It is one of many things that make us individuals in the world – we each have our own unique web that includes our body, how we feel inside, and how we express ourselves. Gender is individual, and it is also something that connects us to the people around us. Gender is personal. Every reader, from age 1 to 101, will have a connection to this book. I encourage you to think about what makes this personal for you and to share that with the little people in your life.
For more information visit www.kidsguidetogender.com.
This book review was submitted by Stand with Trans board member Barb Shumer, who is a retired public librarian.
Mailing Address
23332 Farmington Rd #84
Farmington, MI 48336