Posted by Cameron Parkins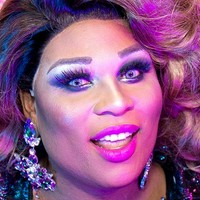 LaBeija was born in the Bronx neighborhood of New York City. LaBeija identified as male but preferred "she/her" pronouns. She was famous for her role in the Harlem drag balls that began in the 1960s and were chronicled in the 1991 documentary Paris is Burning. These drag balls were started to give the black and latino LGBTQ community a place to express gender freely, celebrate and perform in safe, affirming spaces. Before this time, circuits for drag performers were geared towards white people and black performers were pressured to whiten their faces to fit in. LaBeija was known for her Egyptian-inspired drag performances at these drag balls and won 250 trophies for her performances over the course of her life.
The House of LaBeija is the oldest and most adored house in New York's drag and ballroom scene. It was founded in the 1970s by Crystal LaBeija and the "house mother" role was taken on by Pepper LaBeija a few years later. She remained in this role for over 20 years. In Paris is Burning, LaBeija said, "a house is a family for those who don't have family." The House of LaBeija took in members of the LGBTQ community who were exiled from their homes and provided them with guidance and support. LaBeija passed away in 2003 from a heart attack. During her life she made a huge impact on the lives of many young people who were not accepted by their families and society at large. She was truly an inspiration to many.
Sources:
https://www.nytimes.com/2003/05/26/arts/pepper-labeija-queen-of-harlem-drag-balls-is-dead-at-53.html
https://www.thecut.com/article/the-house-of-labeija.html
https://en.wikipedia.org/wiki/Pepper_LaBeija
Mailing Address
23332 Farmington Rd #84
Farmington, MI 48336