Posted by Cameron Parkins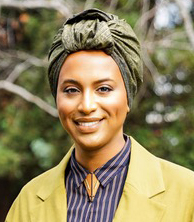 Mahogany is a San Francisco-based transgender activist, drag performer and musician. She began performing drag while
she was a student at the University of Southern California then co-founded the annual drag competition: Berkeley's Next Top Drag
Performer in 2008 while attending graduate school at UC Berkeley. She landed a spot on Season 5 of RuPaul's Drag Race and surprised fans when she sang her own songs rather than lip syncing. Her music career took off after this time and she released her debut EP Honey Love in 2014.
In 2017, Mahogany helped establish the Compton's Transgender Cultural District in the Tenderloin neighborhood of San Francisco. The district, which covers six blocks, is the first legally recognized trans district in the world. The Compton's District got its name from Gene Compton's Cafeteria, a restaurant popular with drag queens and trans folks in the 1960s where riots took place to combat police harassment of the LGBTQ community in August 1966. In 2020, Mahogany was elected to the San Francisco Democratic County Central Committee (SFFCCC) making her the first black transgender woman to be elected to public office in her city and in the state of California. Additionally, she serves as the co-president of the Harvey Milk LGBTQ Democratic Club. In June 2019, to mark the 50th anniversary of the Stonewall Riots, Queerty named Mahogany one of the Pride50 "trailblazing individuals who actively ensure society remains moving towards equality, acceptance and dignity for all queer people."
Sources:
https://www.queerty.com/honey-mahogany-helped-create-worlds-first-trans-cultural-district-20190606
http://www.newnownext.com/honey-mahogany-elected-position-san-francisco-democrats/03/2020/
Mailing Address
23332 Farmington Rd #84
Farmington, MI 48336