Posted by Cameron Parkins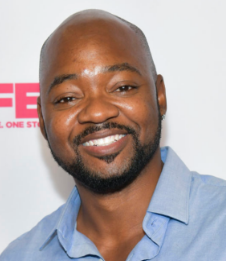 Smith is a native of Ann Arbor, Michigan and is known for his ground-breaking TV performances and his advocacy for
transgender representation in the media. Smith was perceived as male often throughout his childhood. He was a gifted athlete growing up and set records in pole vaulting and shotput and played defensive end and fullback on the boys' football team.
On September 17, 1999, during a game at Traverse City, Smith became the first assigned female at birth athlete to score a varsity touchdown in the State of Michigan. He was raised in a big, loving and religious family. Messages from his religious upbringing challenged his understanding of his gender identity but he became more rooted and confident in his transgender identity after he went away to college at Kent State.
After graduating college, Smith returned to Michigan to teach and mentor youth through the Gear Up Program at the University of Michigan. He eventually moved to New York to pursue his acting career and he worked with LGBTQ youth at the Manhattan LGBTQ Center. He played several roles in TV shows portraying cisgendered men then began playing the role of a trans police officer in the critically acclaimed drama, Queen Sugar. After taking on this role and five years into his professional acting career he came out as transgender publicly in 2017. In honor of the 50th anniversary of the first LGBTQ pride parade in June 2020, Queerty named Smith among the fifty heroes "leading the nation toward equality, acceptance and dignity for all people." Smith became the first out black trans man in a series regular role after being casted as a firefighter in FOX's 9-1-1: Lone Star in 2020. Smith's courage and confidence as a trans man in the mainstream is truly an inspiration. 
Sources:
https://en.wikipedia.org/wiki/Brian_Michael_Smith
https://www.nbcnews.com/feature/nbc-out/queen-sugar-actor-brian-michael-smith-comes-out-transgender-n783451
https://www.tvguide.com/news/features/brian-michael-smith-pride-2020/
Mailing Address
23332 Farmington Rd #84
Farmington, MI 48336