Posted by Cameron Parkins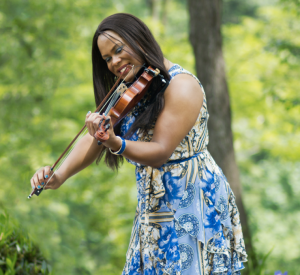 Brown is a mezzo soprano vocalist and has an international career as a violinist. She began playing violin at age 14 and has now performed throughout the United States, Canada and Europe. Brown had challenges with her gender identity growing up and referred to herself as an "androgynous" child. According to Robyn Stevens, the founder of the Baltimore Vocal Arts Foundation, Brown's voice is "very powerful, with the cartilage and larynx of a man, but with a feminine quality. The timbre is unique." Brown was chosen by the White House to sing the National Anthem for former President Barack Obama at the 2011 LGBTQ Pride Gala in New York City, making her the first transgender artist to be given this honor. Brown dreamt of performing at Carnegie Hall as a 14 year old attending the Governor's School for the Arts in Norfolk Virginia. In 2014 she was given that chance and became the first black, transgender woman to perform at Carnegie Hall when she participated in an LGBTQ pride event taking place in the Weill Recital Hall.
Brown is an advocate for transgender issues and the arts and particpates in speaking engagements primarily on the east coast. She also focuses on trans issues in her online TV series, Conversations with Tona Brown. Her words of advice for transgender youth is to "not allow others to make you believe that you are not worthy of achieving what dreams you have. I can't tell you how many people had no problems telling me that I would not succeed being 'out' as a transgender artist." Brown is a major inspiration who has shown the world that despite barriers related to her identity, she has still achieved her wildest dreams.
Sources:
https://www.huffpost.com/entry/tona-brown_n_5373411?guccounter=1&guce_referrer=aHR0cHM6Ly9kdWNrZHVja2dvLmNvbS8&guce_referrer_sig=AQAAAKhGUwGVvqQ9zFNGUE-3dPKVJeVX9GQfCHRqOavc42he9S7yjgTYp1ZgcDXlNJy0REa0-inhTAPduEy6v7j8vK93eBCwM0ZLo165WQrNCFclpblBT_rGr8M272cQPtkB6XakljCmceFocdBt-b7LCMrRqbUy_EQArA6xOmq_N0SI
Mailing Address
23332 Farmington Rd #84
Farmington, MI 48336