Posted by Cameron Parkins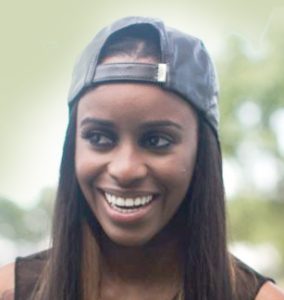 Haze is an agender, pansexual, black and Native American rapper and singer who uses they/them pronouns. Haze was born in Detroit, Michigan to
a military family. Haze's father died before their birth and their mother got involved with a religious cult when Haze was young. Haze had several traumatic experiences in childhood and began writing to process these traumas from a young age. They won a school competition at the age of 13 for the first poem they ever wrote and it was published shortly after. Haze began freestyle rapping and making YouTube videos at the age of 18. Haze released their first EP album, Reservation in 2012 to celebrate their Native-American heritage. This release was ranked the sixth-best mixtape of 2012 by Mike Diver of the BBC. Their debut album Dirty Gold was released on December 31, 2013.
Haze's music includes themes such as homophobia, rape culture and racism. They are open about their struggles with mental illness in their music and in interviews and they don't tend to shy away from more taboo topics. In 2015, Haze began working on a body image project called "The Naked Eye." This project incorporated nude photography and interviews with people who experience body dysmorphia. Their intention was to address mainstream beauty standards and honor the struggles many have had with feeling comfortable in their own bodies. Haze posts their outspoken views on Tumblr and Twitter and has a large following of many LGBTQ people of color. Representation matters to Haze and when their fans see them in the spotlight as an unapologetically agender BIPOC person who is speaking their truth, they know that anything is possible.
Sources:
https://www.buzzfeed.com/shannonkeating/the-evolution-of-angel-haze
https://en.wikipedia.org/wiki/Angel_Haze
http://www.oudaily.com/l_and_a/pansexual-agender-rapper-angel-haze-to-release-new-album/article_647a66f4-58ae-11e5-b417-d3ca2ed8d954.html
Mailing Address
23332 Farmington Rd #84
Farmington, MI 48336