Posted by Cameron Parkins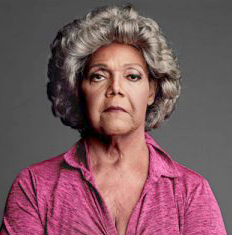 Griffin-Gracy, also known simply as Miss Major is a transgender activist and community leader whose advocacy efforts focus on trans women of color. Miss Major was born in Chicago and came out as a teenager in the late 50s. She participated in Chicago drag balls in her youth and had a community of other gender non-conforming folks. At that time, she was unaware that she and her friends were questioning their assigned gender and much of the current terminology defining different gender identities did not exist at that time. Miss Major had a tough life early on in a world that wasn't very friendly to black, trans folks. She was kicked out of two colleges for presenting as female and over the course of twenty years she was either homeless, in prison and/or engaging in sex work for survival and to afford black market hormones.
She moved to New York in the 60's and frequented the West Village's Stonewall Inn. She was present the night of the Stonewall Inn raid and stood up to law enforcement with other LGBTQ folks. She was arrested in the riots and was beaten over the head and had her jaw broken by police. After Stonewall, her advocacy efforts took her to California where she worked with formerly incarcerated trans women who were facing homelessness. When the AIDS epidemic struck, she worked with several HIV/AIDS organizations in the San Francisco Bay Area including the Tenderloin AIDS Resource Center. In 2005, Miss Major became a staff organizer for the Transgender Variant and Intersex Justice Project (TGIJP) and later became the executive director. In 2016, the documentary film MAJOR! was released which documents Miss Major's life including over 40 years of black, trans advocacy. Currently, she lives in Little Rock, Arkansas where she founded the House of GG's, a safe haven for the transgender community. She and her partner, LGBTQ activist Beck Witt welcomed a child into the world on January 9, 2021. Miss Major's advocacy efforts continue to make a huge impact in the lives of many trans POC folks.
Sources:
https://www.them.us/story/miss-major-beck-witt-pregnancy-announcement
https://www.them.us/story/transvisionaries-miss-major
Mailing Address
23332 Farmington Rd #84
Farmington, MI 48336