Posted by Cameron Parkins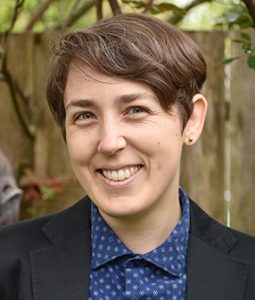 Gender Queer, A Memoir by Maia Kobabe  Published by Lion Forge, LLC, 2019
Winner of the Alex Award, Stonewall Book Award, and nominated for an Ignatz Award and the Best Graphic Novels for Teens list from YALSA (Young Adult Library Services Association).
The author/illustrator Maia Kobabe is an American cartoonist.  E is queer, nonbinary, asexual and uses "Gayatri Spivak" pronouns.  E graduated with an MFA in Comics from California College of the Arts.  Eir work features themes of "identity, sexuality, anti-fascism, fairy tales and homesickness."  (from Wikipedia)
In 2013, when Maia was 24, E headed to San Francisco to begin eir master's degree in comics.  Yes, Maia reassured family and friends, an MFA in comics is a real thing.  Maia entered grad school with a fiction project and no interest whatsoever in developing a memoir.  However, an initial course called Autobiography taught "A good way to get started is by listing your biggest secrets – at least one of them should suggest a story."  Maia wrote down some of eir "demons" which included girly clothes, getting my period, swimming, bathing suits, and boobs.  Gender Queer is Maia's intensely cathartic autobiography that charts eir journey of self-identity, including the mortification and confusion of adolescent crushes, grappling with how to come out to family and society, bonding with friends over erotic gay fanfiction, facing the trauma of pap smears, and eir very brief Tinder Journey.   All eir stories are heartfelt, deeply honest, raw and personal, yet also told with good humor and Maia's wonderful graphic art.
Maia started writing this graphic novel/memoir to best explain to eir family what it means to be nonbinary and asexual, yet Gender Queer is much more than Maia's personal story.  It is a useful and touching guide on gender identity and what it means.  The audiences that will enjoy reading this book include LGBTQ+ teens and young adults, their parents and advocates, and anyone wanting to learn and understand more about gender identity and trans and non-binary folks.
Here are some of my favorite quotes and passages which give a good feel for Maia's narrative voice, without giving too much away:
Neither of my parents were interested in enforcing gender roles either on themselves or me…. By first grade, I had switched from "girl" underwear to soft cotton shorts.  My mom called these "bike shorts" and bought them for me without comment.

My High School coming Out Journey – Clouds of background Gender Confusion – Circa 2003 – 2007
Began wondering if I was gay, age 13.  Told one friend I had "liked a girl," age 14.  Joined QSA!  Told a second friend I liked boys and girls.  Saw The Laramie Project, age 15.  Decided I was a lesbian.  Immediately got a crush on a boy.  Much confusion.  Decided I was bisexual.  Decided I was asexual.  Started hanging out with the theatre kids, age 16.  Got asked directly, "Are you gay?" and answered, "I don't know."  Decided to never have a crush again because they are stupid.  Came out to a handful of other friends as bi, age 17.   Decided I wanted to come out to my parents.  "Uh, Mom, I'm pretty sure I'm bi."  Mom says, "I always thought you were one of those kids who could go either way."
Quote from an entry I wrote in 2004, when I was 15.  I don't want to be a girl.  I don't want to be a boy either.  I just want to be myself.

As I pondered a pronoun change, I began to think of gender less as a scale and more as a landscape.  Some people are born in the mountains, while others are born by the sea.  Some people are happy to live in the place they were born, while others must make a journey to reach the climate in which they can flourish and grow.  Between the ocean and the mountains is a wild forest. That is where I want to make my home.

But why am I like this??? Sometimes I feel like my sexuality is broken and my gender is broken.  I feel like there are all these wires in my brain which were supposed to connect BODY to GENDER IDENTITY and SEXUALITY.  But they've all been twisted into a HUGE SNARLED MESS.  
I confided these feelings to a long-distance friend.  Sometimes I feel like my brain is a machine build by someone who lost the instruction manual.  – Maia
I feel that way sometimes too.  You should check out a book called Touching a Nerve: Self as Brain by Patricia Churchland, Ph.B. When I read it, I was fascinated and weirdly relieved – hope you will be too.  – Marian
Next, Maia writes/illustrates several pages of Dr. Churchland giving a lecture about early stages of human development, the roles of testosterone and estradiol, and how there are many factors, that make it easier to grasp a biological explanation for how a person might feel a disconnect from their gonads and their gender identity.
Maia then writes:
A huge part of who I am is due to the suite of hormones and neurochemicals present in the womb as my cells developed.  So, Lady Gaga was right – I was born this way.  What a relief.
Last page of the book:  A note to my parents: Though I have struggled with being your daughter, I am so, so glad that I am your child. – MK
The online portfolio of Maia Kobabe is found at https://redgoldsparkspress.com
Maia will be a featured presenter during Trans Empowerment Month!
On Tuesday, October 19 from 7:30 to 8:30 pm, Maia will talk about eir process in writing and drawing this comic book memoir, working with an editor and the book's reception.  E will show slides of early draft artwork, do a short reading, and take audience questions.  We hope you will read the book and join us for Maia's presentation.  
Register for Trans Empowerment Month, BE YOU!  
This book review was submitted by Stand with Trans board member Barb Shumer, who is a retired public librarian.
Mailing Address
23332 Farmington Rd #84
Farmington, MI 48336