For this issue of Real News, I am reviewing several picture books that feature transgender and nonbinary characters.  These books speak of kindness, joy, and acceptance.  Please share them with children you love.
Introducing Teddy, A Gentle Story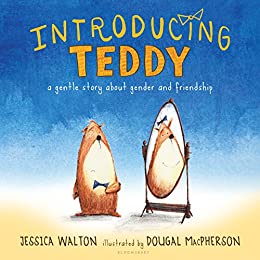 About Gender and Friendship
by Jessica Walton, with illustrations by Dougal MacPherson.  Published by Bloomsbury Publishing Inc., 2016.
Errol and Thomas the teddy bear play together every day.  They ride their bike
in the backyard.  They plant vegetables
in the garden.  They have sandwiches for lunch in the tree house.
One sunny day, Errol finds that Thomas is sad, and Errol can't figure out why.  Thomas finally tells Errol what he has been afraid to say: "In my heart, I've always known that I'm a girl teddy, not a boy teddy.  I wish my name was Tilly."  Errol says, "I don't care if you're a girl teddy or a boy teddy!  What matters is that you are my friend."  With that, Errol and Tilly go off to play with their friend Ava who is delighted to hear Tilly's news.  Tilly moves her bowtie from around her neck to the top of her head to hold her hair in place, and Ava exclaims, "Good for you, Tilly.  Wear whatever makes you happy!"
Author's note (from the book flap)
Jessica lives with her wife, son, and cats in Melbourne, Australia.  She was inspired to write Introducing Teddy after her father transitioned into the woman she had always been on the inside.  Jess wanted a story with a transgender character that she could read to her young son.  
The Bare Naked Book,
by Kathy Stinson,
with illustrations
by Melissa Cho.  Newly revised and updated by Annick Press, 2021.  
The Bare Naked Book has been a beloved fixture in libraries, classrooms, and at-home libraries since its original publication in 1986.  This NEW EDITION, ready for a new generation of readers, is a joyful celebration and body-positive book for young children that discusses all the different parts of a human body, from hair and eyes and nose to chest and breasts and genitals, and is inclusive of all genders, a wide range of skin tones, physical differences, and body types.  
The book begins "Bodies, bodies!  Big and small, short and tall, young and old – Every BODY is different."   The book then proceeds with colorful spreads about our different body parts, including hair, eyes, noses, arms, legs, chest and breasts, genitals, and more.  Each body part is briefly discussed, and readers are asked, "Where is/are your (hair, eyes, nose, legs, chest and breasts, genitals, etc.)?"  The illustrations show people of all ages, sizes, skin tones, and nationalities laughing, playing, and posing.  There are people with crutches, in wheelchairs, with one arm or leg.  There are people with armpit and chest hair, tattoos, body piercings, braces, missing teeth.  Also, there are characters with Muslim hijabs and burkas as well as sikh head coverings (turbans and patka).
On the page that reads "Chest and breasts:  With hair, with milk, and nipples like buttons.  Where are your nipples?" The author admirably avoids specifying genders.  Melissa Cho's illustration of four adults showing their naked breasts and chests includes one person with facial hair who has scars below the nipples on a flat chest, presumably a transgender man who has had top surgery.  
On the page that reads "Genitals:  Different people have different kinds.  Whatever you call whatever you have, your genitals belong to you.  Where are your genitals?"  Melissa Cho's illustration is totally appropriate for the age and topic as she captures four very young children in scenes of everyday life: children pulling on and taking off their clothes and one child sitting on a toilet.  None of the children are gendered.  One child with a penis is pulling on a pink shirt and another child with extremely short hair has a vulva and is stepping into underwear.  Author Stinson writes in the afterward about her deliberate approach here, saying that "Rather than specifying 'penis' and 'vagina' as in the original version (1986), and assigning them rigidly to males and females, this time we have used simply 'genitals,' leaving adult readers free to talk with children about variations in gender identity and genitalia, and the words they might prefer to use to refer to them.  This shared understanding of terms lets "each child choose how they self-identify."
Many other pages include queer representation, examples include an image of two women (or possibly a woman and a trans/nonbinary person) holding hands, an image of two older men with their arms around each other, and a character on the page about eyes who has pink hair and bold extravagant eye makeup.
Toddlers and preschoolers have normal inquisitive questions about their own bodies and the bodies of others.  This is a thoughtful and intentionally illustrated picture book about our different and amazing bodies that will help spark discussion with young children and give them appropriate space to ask questions and learn without judgement or shame.
She's My Dad!  A Story for Children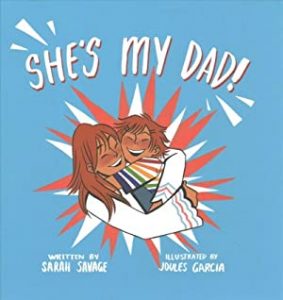 Who Have a Transgender Parent or Relative by Sarah Savage, with illustrations by Joules Garcia.  Published by Jessica Kingsley Publishers, 2020. 
This brightly illustrated picture book story is told by Mini, a six-year-old who loves kittens more than anything.  After kittens, Mini loves Dad.  "My Dad's name is Haley.  She used to be a he but now she is a she.  Last year she did this thing called transition.  She grew her hair long, painted her nails in bright colors and started wearing different clothes."  While this "sounded a bit scary at first," Haley reassured Mini that "I will always be your dad and I will always love you very much."   
Mini shares one day in their lives, as they help at a cat rescue center and then go to Grampa's birthday party.  At the party, Mini's cousin accidently misgenders Haley.  Mini gently corrects the cousin, explaining that it took them a while to get used to using the new pronouns, too.  A Reader's Guide at the end offers a glossary and questions for discussion, like "Why is it important to use the right pronouns when speaking about someone?"  
She's My Dad is much needed, as there are still very few picture books about transgender parents.  At the same time, remember this is just one picture book story about one transgender parent and child.  Many more books like this one are needed:  Gentle stories that assuage young children's worries about what it means when a parent transitions while emphasizing a parent's unconditional love. 
Toby Wears a Tutu by Lori Starling, with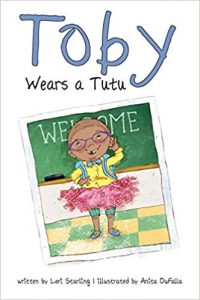 illustrations by Anita Dufalla.  Published by Brandylane Publishers, 2021.
Toby is ready for the first day of school with a "freshly shaved head, purple glasses, button-down blouse, handsome blue bow tie, and frilly pink tutu."    Toby confidently asserts, "The world is mine to discover."  Kids tease and ask
whether Toby is a boy or a girl.  Toby isn't sure how to answer.  After giving it thought and encouragement from Mom, Toby has an answer ready.  "I'm Toby," and then proceeds to share the things that Toby likes to eat, wear, do and be.  Toby tells them, "Sometimes I feel like a boy" and sometimes a girl; most days though, Toby is somewhere in between.  Another child asks, "So … you're just a Toby?"  Toby nods and then gets invited to play kickball.  "It's amazing to just be a me," Toby concludes.
These book reviews were submitted by Stand with Trans board member Barb Shumer, who is a retired public librarian.  
View many more picture book titles as well as other books for children, tweens, teens, and adults featuring transgender and nonbinary characters on the Stand with Trans Book List.
Mailing Address
23332 Farmington Rd #84
Farmington, MI 48336