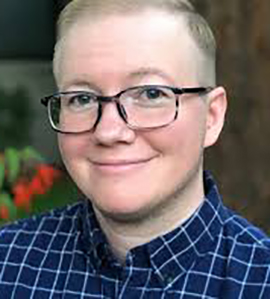 Ana on the Edge by A. J. Sass, published by Little Brown, 2020
The author A. J. Sass dedicates this book:
To anyone who's ever answered "no" when asked, "Are you a boy or a girl?" – or even just thought it silently to yourself. I see you.
Twelve-year-old Ana-Marie Jin, the reigning US Juvenile figure skating champion, is not a frilly dress kind of kid. She wears her hair short and hasn't worn a skirt on the ice in years. When Ana-Marie learns that next season's program will be princess themed, she is not happy. She will not be comfortable performing on the ice dressed as a princess in a skirt with glittering crystals. Ana decides she must focus solely on her training and her moves, telling herself it shouldn't matter what she is required to wear, right?
When Ana-Marie meets Hayden, a transgender boy new to the rink, thoughts about the princess program and gender identity take center stage. On their first meeting, Hayden thinks Ana-Marie is a boy, because she has mistakenly put on her coach's "Alex" name tag, rather than her own. Ana doesn't tell Hayden about the mix-up and finds comfort in this new boyish identity. As their friendship grows, Ana meets Hayden's family, who also assume she is a boy named Alex. Ana asks them to call her "A" for short and finds that she truly enjoys being identified as a boy when she is with them. Hayden has posters on the walls of his room which show pronouns in different languages, including French, Spanish, Hebrew, and Arabic.
Quoting from the book – a conversation between Ana and Hayden –
"What do those mean?" Ana asks

"I think they're Arabic. Hold on, I don't have everything memorized." Hayden gets up. He digs through his desk, pushing aside strips of tan fabric to unearth a notepad and pen. "Yeah, they're Arabic. Those two are anta and anti, which are male and female versions of 'you.'" He points the pen to another word on the notepad. "And this one's ana, which means 'I.' You can use that if you're a girl or a boy."

I stare at him. "Ana means 'I'?" … I'm in a daze. Hayden just said my name, and he doesn't even know it. Ana means "I" in another language … I stand up, and my gaze flickers past another set of words. They're taped to the front of his closet. Zie, zir, zirs. "Hey, what language are those?"

Hayden takes a few steps back to look where I'm pointing. "That's not a foreign language. They're gender-neutral pronouns.

Gender neutral? I look at the words again, sounding them out in my head. I want to know more… Zie, zir, zirs … the words buzz between my ears all through lunch. Gender-neutral. I repeat them to myself … I want to ask Haden more questions, but not in front of his family.
When Ana returns home, she tells her mom and her friends that she wants to be called Ana, not Ana-Marie. Next, she opens a browser tab on her phone and searches different links to learn more about gender-neutral pronouns, Limitations of the English Language, Identifies as Nonbinary, and Nonbinary: not relating to, composed of, or involving just two things. "That's totally me." Ana realizes. Now how will Ana explain that she is nonbinary to her mom and to her friends with a major princess competition approaching, and all her years of hard work and sacrifice on the line.
A. J. Sass (he/they) is a writer, editor, competitive skater, and he is nonbinary. He has passed his US Figure Skating Senior Moves in the Field and Free Skate tests, medaled twice at the US Synchronized Skating Championships, and currently dabbles in ice dance. In the "Author's Note" at the back of the book, he writes –

When I was Ana's age, I didn't know what it meant to be transgender, and nonbinary was an even bigger mystery… Like Ana, I was a young figure skater and although I loved seeing all the glittery dresses that girl skaters were once required to wear at competitions – they made me uncomfortable to perform in myself. When I got older, I met other trans people for the first time in my life. At one point, I thought I identified fully as a man. I asked people to call me a traditionally male name, I cut my hair short, and I started using pronouns like he, him, and his.

I was delighted when people started seeing me as a man, because it felt fresh and new and closer to how I saw myself than when they assumed I was a woman. Like Ana, I gradually began to realize that this didn't quite fit how I felt and internally saw myself. When I finally discovered the term nonbinary, a weight felt like it had lifted off me, one I'd been carrying since I was a kid skating on ice rinks. And when I came out to the people closest to me, it really did feel like stepping into the light after hiding someplace dark.

If there's one thing you take away from Ana's story – and mine – I hope it's that there is no one right way to be nonbinary, no expiration date for discovering your identity. Ana's experience is hers along, just like yours is unique to you… Whether you're twelve like Ana when you figure things out or already an adult, you alone get to decide who you are.
Visit A. J. Sass' official website https://sassinsf.com to learn more about A. J. Sass, Ana on the Edge, and other books that he has written.
This book review was submitted by Stand with Trans board member Barb Shumer, who is a retired public librarian.
Mailing Address
23332 Farmington Rd #84
Farmington, MI 48336