Trans Empowerment Month: THRIVE 365 Returns in October 2022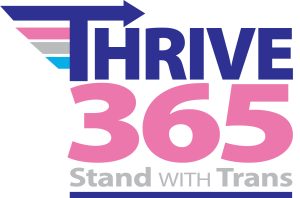 September 1, 2022
FOR IMMEDIATE RELEASE
Contact: Danica Emry (she/they/he)
Program Manager
dewy@standwithtrans.org
248.907.4853
Trans Empowerment Month: THRIVE 365 Returns for October 2022
 THRIVE 365 celebrates transgender youth and their families throughout the month of October
Metro Detroit, MI – Stand with Trans is hosting its third annual Trans Empowerment Month this October with the theme "THRIVE 365". This month-long event will consist of numerous workshops, panels and performances, both online and in-person, to help transgender and non-binary youth learn to live their best lives.
This one-of-a kind event, which will begin October 3 and run through October 30, is free to transgender youth and young adults up to age 24. It is open to trans adults and allies aged 25+ as well for a modest fee. Interested persons can sign up and learn more by registering online at standwithtrans.org/TEM. 
"We're so happy to have the privilege of bringing this content to our community for yet another year. It's critical that we as members of the Transgender community take care of ourselves and each other," said Stand with Trans Program Manager Danica "Dewy" Emry. "It's our goal to create space and opportunities for our trans community to thrive and grow; it is our hope Trans Empowerment Month 2022 will foster greater joy and self love."
THRIVE 365 will be primarily available via zoom with the exception of several in-person sessions which will be held at Affirmations in Ferndale.  Topics will range from self-advocacy, resiliency, voting rights, art therapy, sex education and more. Participants can ask questions and hear first-hand from transgender adults who have overcome barriers and learned to thrive.
"We are proud to renew our annual sponsorship for Stand with Trans and Trans Empowerment Month,"  said Yma Johnson, Director of Culture for Michigan Aerospace Corporation and Springmatter. "Stand with Trans provides critical support and resources to transgender youth and their families. Their high-quality services are absolutely essential and that is why we are excited to continue our support." 
Stand with Trans' mission is to empower and support transgender youth and their loved ones.
standwithtrans.org | facebook | twitter | instagram | linkedin
###
Mailing Address
23332 Farmington Rd #84
Farmington, MI 48336