Love Lives Here, A Story of Thriving in a Transgender Family
Written by Amanda Jetté Knox, published by Penguin Random House, 2019.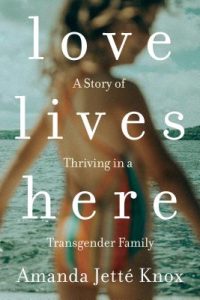 All Amanda Jetté Knox ever wanted was to fit in and enjoy a stable life. While her mother and stepdad were loving parents, their household was chaotic with three additional younger siblings, one with special needs. At school, she was a misfit and was bullied mercilessly. At one point, mean girls sprayed her hair with hairspray and tried to set it on fire. Amanda ultimately dropped out of school and moved out on her own, where she met the love of her life at age sixteen. They got married in 1997, when Amanda was just twenty years old, and at that time, they already had a nine-month-old baby, the first of their three children. In time, Amanda had the husband, the house in a quiet neighborhood, and the loving stable family that she had always dreamed about, or so she thought.
But there were cracks in the foundation … their middle child struggled with depression, and Amanda was unprepared when the child she knew as her son came out as transgender at age eleven. Shocked, but knowing the importance of supporting her daughter, Amanda became an ardent advocate for trans rights, going to bat for her daughter at every opportunity. But the story was not over. For years, Amanda had coped with her spouse's chronic unhappiness, which was taking a toll on their marriage. About a year after their middle child came out, her spouse also came out as transgender. Amanda searched for positive examples of marriages surviving transition. When she found none, she determined that her family would become one, as it was in everyone's best interest, and they loved each other dearly. The shifts along the way for Amanda, her spouse, and their children were challenging, but slowly everyone in the family noticed that they were happier.
Excerpt from the book –
The scene is Amanda sitting alone in her car shortly after learning her spouse is transgender.
"Okay, Amanda. Bring it back, bring it back. You're okay."
That was me, talking myself down from all the wailing. I had to be my own therapist in the moment. Besides, what exactly would I say if someone gently tapped on the window to check on me? "Well, see, I have a really hard time with change because I have an anxiety disorder and a bunch of old trauma, and I was just starting to feel good about my daughter coming out last year, and me not realizing I was kind of transphobic, and having to learn how not to be a terrible human about things I don't understand, and now I just found out I have a wife instead of a husband, and I feel like a terrible human all over again."
That would be a great way to get someone to slowly back away from the car. I was going to file that away for a handy occasion – like the next time I got pulled over for speeding.
This memoir of the Knox family, written by Amanda Jetté Knox is told primarily through two journeys, running side by side. Amanda's journey, and that of her spouse, labeled as "the girl from Peterborough, who wasn't seen as one." Through it all, Amanda speaks openly, bringing many issues to light, opening doors, opening eyes, and opening minds. She has taken a very difficult and sensitive subject and written a courageous, at times painful, at times humorous, yet always loving account of their family's collective journey through transition from a traditional family of mom, dad, and three boys, to a new dynamic of two moms, two boys, and two girls. Yes, two girls … when you read the book, you will understand this surprising twist that comes near the end of their story.
Amanda Jetté Knox is an award-winning writer and blogger, a human rights advocate, and an inspirational public speaker. She lives in Ottawa, Canada with her wife, two daughters and two sons. Amanda's work, and her family's journey, has been featured on The Globe and Mail, Chatelaine, Today's Parent, Upworthy, Buzzfeed, Us Weekly, Ottawa Family Living, the Today Show, and other publications, podcasts and media outlets.
Learn more by visiting Amanda on her website: https://www.amandajetteknox.com
This book review was submitted by Stand with Trans advocate Barb Shumer, who is a past board member and retired public librarian.
Mailing Address
23332 Farmington Rd #84
Farmington, MI 48336