Black History Month: Dr. Scholar Lee
History Makers in the Making 2023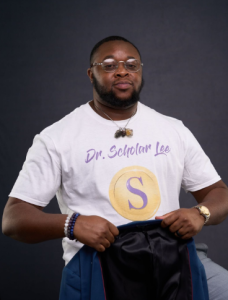 Dr. Scholar Lee (Me/Myself/I) is Thee Voice of Enlightenment and a Thought Leader of the Trans and Non-binary community. He navigates the world as a harmonious Spirit with a mission and purpose to educate, elevate, and enlighten humanity so they feel empowered to evolve into a greater and healthier version of self.
Dr. Scholar Lee manages several businesses. He is the Executive Director of OUT GA Business Alliance's 2022 Small Business of the Year, T.R.A.N.S.parent Life Conversations (T.L.C.), an LGBT Business Enterprise (LGBTBE of NGLCC) and mentoring services for transgender and nonbinary youth and their families. Additionally, he is the Founder of T.R.A.N.S. Incorporated, a nonprofit devoted to fulfilling the needs of the transgender and nonbinary community, their family members, and organizations that provide a service to this the TGNC population (please visit
www.transparentlifeconversations.com for more information concerning T.L.C. and T.R.A.N.S. Inc.).
Having been assigned female at birth, Dr. Scholar Lee makes it a point to enlighten and empower society to affirm the identities of the trans and nonbinary community through his documentary series, Gendered., featured on his podcast, The Dr. Scholar Lee Experience. Gendered., is a documentary series that features interviews with transgender and nonconforming (TGNC) people who share their lived experiences. Additionally, family members, professionals, and allies of the TGNC community share their experience, expertise, and enlightenment in this docu-series. Dr. Scholar Lee continues to share intimate and empowering interviews with the intent to change the narratives that contribute to the mental health, emotional instability, and Spiritual warfare underprivileged populations experience. Dr. Lee enlightens and empowers society to be harmonious, with self and others, despite each other's differences because it's our differences that create the difference in this world.
If you are interested in donating/Sponsorship, and or becoming a featured guest on The Dr. Scholar Lee Experience Podcast and or the Gendered. Documentary Series, please email
contact@drscholarleexperience.com for more information.
Subscribe to Dr. Scholar Lee's Youtube channel, BDown Media, Instagram and TikTok platforms at @drscholarlee for Spiritual, enlightening, and empowering content that will help you develop an INNER-standing of self, OVER-standing of your value and purpose, and UNDERstanding of your truth.
In conclusion, Dr. Scholar Lee is Thee truth seeker, speaker, and servant of his truth. He empowers everyone to Be. Great, Be Bold, and to ALWAYS BE YOU!!!! Here is the link to the trailer of Gendered. season one.
Dr. Scholar Lee
Websites:
www.drscholarlee.com
www.transparentlifeconversations.com
www.drscholarleexperience.com
Social Media:
TikTok and Instagram: @drscholarlee
YouTube @bdownmedia
Mailing Address
23332 Farmington Rd #84
Farmington, MI 48336