Special Topics in Being a Human: A Queer and Tender Guide to Things I've Learned the Hard Way about Caring for People, Including Myself.
Written by S. Bear Bergman, Saul Freedman-Lawson (Illustrator), Arsenal Pulp Press, 2021.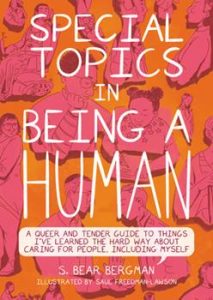 This tender, open-hearted self-help and relationship book, written from a queer/transgender lens, is filled with practical and thoughtful advice about living life. S. Bear Bergman, a transgender parent, has been writing an advice column "Asking Bear" for the past seven years. Some topics came up in the letters over and over, and in reading through accumulated years of the columns, Bear found that he had honed certain streams of advice over time with more skill and clarity that were broadly applicable, and this led to the publication of Special Topics in Being Human. The illustrations by talented transgender illustrator Saul Freedman-Lawson expand on the text in contextual and entertaining ways, helping the advice come across as truthful and direct without being preachy. Additionally, the art is an absolute joy with so many diverse people and bodies represented, of all genders, races, religions, abilities, and body types. There are seventeen chapters in total, with each chapter answering a direct concern.  Some of my personal favorites include:
How to tell People Things They Very Probably Won't Be Happy to Hear, at Least at First

How to Avoid Getting Your Upset All over Other People When You Feel Out of Control

How to Have a Disagreement, or Even an Argument, without Having a Fight

How to Be Reasonably Graceful When a Relationship Has Ended, Even If You Feel Wretched

How to Get Someone's New Name and/or Pronouns Right, Every Time. Sooner Than You Think

How to Increase a Sense of Safety for Women and Other People with Marginalized Genders Whom You Encounter in Daily Life

How to Be a Useful Ally or Co-Resister to Actual People Whom You Support
In addition to addressing BIG topics and breaking down the ways for handling them to five or six simple steps (summarized at the end of each chapter), there are many small useful tips sprinkled along the way: knowing your goals, being honest with yourself about what you need to thrive and what impedes your thriving, making a pros and cons list, remembering just to think and not say/scream angry inappropriate things, setting reasonable expectations, remembering that mistakes will be made, and being kind to yourself.
Each chapter takes less than fifteen minutes to read.  I approached this book by reading it straight through, from beginning to end, but reading and reflecting on just one chapter a day. It can also be approached by looking at the table of contents and reading favorite topics that seem particularly relevant. While this book is geared for young adult and adult audiences, some chapters are appropriate and can be read and enjoyed by children as young as twelve or thirteen years of age. This book is highly recommended as an excellent resource book for a home library.  
Bear Bergman is an author, educator, and public speaker.  In addition to writing the advice column "Asking Bear," he is the founder of Flamingo Rampant: producing feminist, racially diverse, LGBTQ+ positive children's books, in an effort to bring visibility and positivity to the reading landscape of children everywhere.    
Learn more about S. Bear Bergman at his website, https://www.sbearbergman.com.  
If you would like to send an advice question to "Asking Bear" use this form: https://www.sbearbergman.com/askingbear
Saul Freedman-Lawson is a student and illustrator living and working in Toronto, Ontario.  They write and draw about queerness, transness, Judaism, and childhood.  They like to draw people with big noses and big genders.  Special Topics in Being a Human is their first full-length book.
This book review was submitted by Stand with Trans advocate Barb Shumer, who is a past board member and retired public librarian.
Mailing Address
23332 Farmington Rd #84
Farmington, MI 48336